The Navigator Putting Aid
DIRTY LARRY GOLF
Nothing feels better than sinking those clutch putts when they matter the most. Be the star of your foursome and the envy of your competitors. The Navigator Putting Aid attaches easily to your putter, and once the alignment rod is properly adjusted at a 90° angle from the club face, this golf training aid teaches you how the proper aim and a squared clubface will dramatically improve your putting on the green.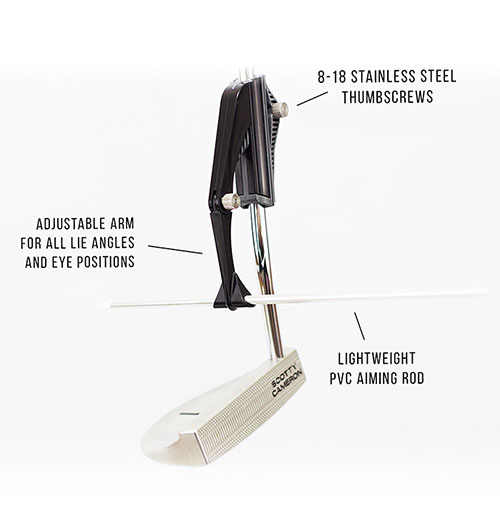 Features:
Works for any putter (lefties included!)
Attaches securely to any putter with thumbscrew
Adjustable arm for all lie angles and eye positions
Weighs only 1.2 oz
100% Made in USA
24/7 Access to the DLG Performance Center
Manufacturer:

Dirty Larry Golf

Open Box:

No

Pd-product-review-family:

17DLGNAVIGA111111111101

Model:

The Navigator Putting Aid

MAP:

49.00

Condition:

New, Factory Sealed

FreeShip:

No

DropShip:

No

pd-rating-count:

0

Bulk:

$32.50
New to the golf lingo?
Other Great Gear to go with your Dirty Larry Golf- The Navigator Putting Aid
29831
Manufacturer:
SKLZ Golf
Open Box:
No
Model:
2017 Vari-Break Putting Mat
Video:
https://www.youtube.com/embed/E5VbuNBZDAE
Condition:
New, Factory Sealed
FreeShip:
No
DropShip:
No
pd-rating:
4
pd-rating-count:
29
Pd-product-review-family:
17SKZVARIBR1111111111101
pd-rating-count:
29
MAP:
89.99
Their Price: $99.99
Rock Bottom Price:
$89.99
Shop Now
41036
Manufacturer:
Inputt Golf
Open Box:
No
Model:
Putting Training Aid
MAP:
59.99
Condition:
New, Factory Sealed
FreeShip:
No
DropShip:
2-3 Day
pd-rating:
5
pd-rating-count:
1
Pd-product-review-family:
17INPUTT1111111111111101
35364
Manufacturer:
Visio Golf
Open Box:
No
Model:
Aimboard
Condition:
New, Factory Sealed
FreeShip:
No
DropShip:
No
pd-rating:
5
pd-rating-count:
1
Pd-product-review-family:
17VISAIMBOA1111111111101
MAP:
32
Their Price: $39.99
Rock Bottom Price:
$19.99
Shop Now