NEW SOFTER CORE. SAME EXPLOSIVE DISTANCE.

TaylorMade has designed an incredible golf ball for competitive mid-handicappers who need more approach-shot spin. Project (a) is long off every club and feels great around the greens.


REACT™ 40 compression core - Faster Driver Speeds
SPIN MANTLE™ technology - More Iron Distance
URETHANE SOFT TECH™ COVER - Soft Feel and Tour Spin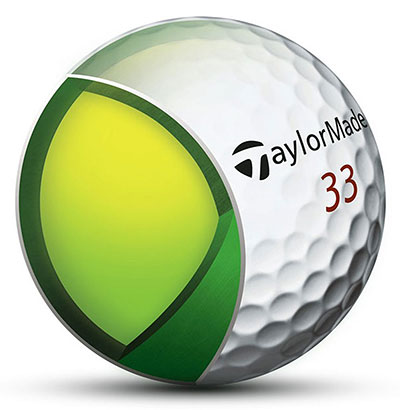 SearchCategory1:

Golf Balls

Gender:

Mens

Manufacturer:

TaylorMade Golf

PersonalizationPrice:

.01

Open Box:

No

Model:

2016 Project (a)

SearchCategory2:

New Golf Balls

Pd-product-review-family:

15TAYPROJTA16

MAP:

34.99

FreeShip:

Ground 3

pd-rating:

5

pd-rating-count:

194

Condition:

New, Factory Sealed

Makeup:

ONE-DOZEN

DropShip:

No

Abstract:

PERSONALIZE FOR A PENNY!

DropShip:

No

Video:

//videos.sproutvideo.com/embed/489ad9b21b1ae2c4c0/6579768ab1624c80

PromoDiscount:

0.85
New to the golf lingo?
Other Great Gear to go with your TaylorMade Golf - 2016 Project (a) Golf Balls
Product Reviews
5
Stars based on
194
reviews
By Kevin Kirk
Fort Wayne, Indiana
Great Value and performance
March 21, 2017
Played these balls last year for the first time and loved the performance for the dollar.
Pros
Very playable performance ball for the money
For the price
March 16, 2017
Feels good on each shot but cover wear out so quickly
bought these for my neighbor
March 10, 2017
He loves these balls (low / mid handicapper) so we did a little horse trading--at this price I think I made out :)
Cons
I really don't play them so can't say
One of the best balls ever made
March 3, 2017
I've played just about every ball made and to me this is number 1. Soft feel, great spin and long ball flight, and you can take that to the bank.
Great balls of fire!
March 2, 2017
Hit Pro V's for the longest time...the project (a)'s have performed better at half the price.
Pros
Good distance and just enough spin around the green.
Cons
Covers can wear quickly sometimes
nice deal
February 27, 2017
nice deal on some quality golf balls
Amazing
February 15, 2017
found one in the woods one day and used it on the next hole which was a par 3. Spun the ball right off the green. Incredible amount of spin, especially at a lower price than many other balls
By John
Simi Valley California
Project a golf balls
January 28, 2017
Feel good coming off clubs. Good feel on putting green.
By Mikey
Gloucester, Massachusetts
Great balls
January 20, 2017
Love the project a's. Super soft with great control.
Great golf ball for a great price!
December 16, 2016
This ball performs almost exactly like a Tour Preferred X! Outstanding distance, feel, and spin. A must buy!
Top of the heap for amatuers
December 16, 2016
Where to start on this ball? All around great ball at a super great price! Long off the tee with low spin, yet it spins very well on long and mid irons, even more so on short irons. Great around the greens and checks up nicely on full and even partial wedge shots. Durable, and great feel - soft, yet firm and not mushy. Shot my lowest round using this ball! Just a terrific ball! If you haven't already, you gotta give this ball a try!
Pros
It checks (pun intended) all the boxes
Just a good as more expensive big brother
December 15, 2016
This ball flies as far, and spins as much on short chips and stop shots ad the PREFERRED balls do. I like the number sequences better as well.
By Tyrone Hobbs
Reidsville NC
LOVE THIS BALL!!
December 14, 2016
This ball just feels great. Long off the tee with the woods and lots of spin with the irons. The ball feels like butter when using the putter.
Solid ball value
December 14, 2016
decent spin 100 yards in and soft around the greens
Project (a)
December 10, 2016
Great ball, straight, true, soft, more than enough spin around greens
By Ray Schnell
Homosassa, FL
Great price.
December 8, 2016
Excellent golf ball especially for the price. Feels soft when hit and stops quickly on the green. Good distance off the tee.
Great ball
December 7, 2016
I've played these for a few months now and they worked out quite well. Couldn't be happier. Spin is just fine along with distance. Ball Al sob has a good feel to it.
Pros
Good feel, distance and spin
The Right Ball for me
December 7, 2016
I'm 64 and I've been playing this game for some time... I HAVE NEVER consistently hit drives longer. This low compression ball works for me.
By Tommy E Martin
Hanford,Ca
Project (a) golf Balls
November 19, 2016
When TaylorMade made these, the project was perfection. They've done it!!
By Poway92064
San Diego CA
Very comparable to the NXT Tour
November 6, 2016
My ball of choice is the NXT Tour. I tried a box of these based on a recommendation from my brother, who can afford any ball he wants. RBG had a special so I gave them a try. I thought they were very comparable and at the time about $8/box cheaper. I just got another box but now they are the same price. I still like them but now not as much. At 65, driver swing speed is in the 92-95 mph range and I play Mizuno JPX irons. Driver distance is very good and straight, irons distance is more than very good and they do have that nice touch feel around the green and putting. Very good speed control for a mid-tier ball. So if you are looking for something different to try, give these a try.
Pros
Distance off both irons and driver, good feel on and around the green.
Cons
Cover is average for durability but prices have creeped up so the are no longer the bargain they once were. If you can find them for $26-$28/dz then good deal.
Great ball
November 3, 2016
Easy to control and one hop stops on the green. Best ball for the money in my opinion.
Fantastic golf balls
November 2, 2016
Plays long and easy to spin around the greens
Balls Scratch Easily
October 25, 2016
Balls scratch through grass. Peeled easily
Great spin and distance
October 20, 2016
Needed more spin but without losing any distance on my shots and I got that from them.
So far all good
October 17, 2016
Great all around golf ball for lower speed swing golfers. Contact feels very smooth and cover does make this ball spin more than other golf balls in its price range. I highly recommend it for someone looking for higher launch and more spin on their shots.