Brampton Technology introduces PRO-FIX 5&10 shaft bonding adhesive, the first 5 minute adhesive with the strength, toughness and impact resistance of a 24 hour curing product. Bonds made with PRO-FIX 5&10 achieve playable strength within 10-20 minutes at standard temperature (allow longer time for colder temperatures).

PRO-FIX 5&10 gives you the technology to make high quality, rapid bonds and get customers back on the course.

Features:

Superior bond strength on all shaft types
Very easy to use
Double-barreled tube dispenses an exact 1:1 mix
100% cure in 10-20 minutes
Easy cleanup
Easy dispense dual cartridge
Manufacturer:

Brampton Golf

Open Box:

No

Model:

PRO-FIX 5&10 Rapid Cure Syringe

SearchCategory1:

Club Making Gear

SearchCategory2:

Accessories

FreeShip:

No

pd-rating:

5

pd-rating-count:

19

pd-rating-summary:

Makeup:

.85 fl. oz. (25ml) Syringe

Condition:

New, Factory Sealed

MAP:

4.99

DropShip:

No

DropShip:

No

DropShip:

No

DropShip:

No
New to the golf lingo?
Other Great Gear to go with your Brampton Golf Pro-Fix 5&10 Rapid Cure
Product Reviews
5
Stars based on
19
reviews
One cartridge
December 9, 2016
I managed to do a set of 8 irons and a hybrid from one cartridge. Left it for 24 hours and it's rock solid. Brampton are the best for glue and tape in my opinion. RBG price is the best you will find anywhere.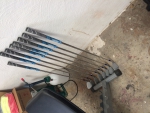 Pros
Sets quickly Works well Easy to use Easy to remove unwanted glue even hours after us
So Far So Good
November 4, 2016
Quick set up and fast cure times. So far it is still holding my driver together so I cant complain.
By EMILIO
PHOENIX, ARIZONA
Great product
August 21, 2016
I used this on my first club build. I swapped out a stiff for regular shaft on one of my drivers. The Rapid Cure set in about 10 minutes.
Pros
Fast setting. Easy to mix and excellent price.
Very good epoxy!
August 10, 2016
Sets up fast and saves time in your club building.
good adhesive
July 27, 2016
used this on a driver reshaft w/o issue. tried a hardware store 2 part glue and had so so results. seems to cure hard, reasonable setting time.
Great All Around!
July 16, 2016
Brampton makes the best stuff out there. Really like this stuff. I prefer quicker set time...still let it cure overnight, just to be safe! Great deal from RBG too!
Easy to use epoxy
July 7, 2016
Simple to use epoxy that works great.
Pros
Easy to use. Great price at RBG.
By Ted
Grand Rapids , Michigan
Rapid cure
February 24, 2016
Works very well
quick mix
February 7, 2016
mixes and set quick
By Doc Divot
Uniontown OH
Sticking Yur Clubs Together
October 23, 2015
I build clubs and always need a good epoxy. Price and quality are great.
Pros
Does what it's supposed to do.
Best Epoxy Ever
June 3, 2015
This is the best epoxy you can buy for reshafting and quick repairs. I've never had a problem with it. If you mix it right and give it a few minutes it will work perfectly. The best part about it, RBG is selling it for half the price I can find it locally, so stock-up.
Pros
Quick, cheap, easy to use, best on the market
epoxy goodness
February 10, 2015
so far so good
Pros
ggggggggoooooodddddd stuff
Stick with it
January 13, 2015
Does the job, easy to work with. Rapid Cure is Fast. I've never really tested it's strength at 10 minutes so I can't speak to that but after a few hours I've had no problem in the past.
Saved Me $15
October 13, 2014
Took my 3 wood to Roger Dunn (World Wide Golf Shops) to have the head epoxied back onto the shaft and they wanted $20. I laughed at the guy and told him my club (old Taylormade V Steel) is probably worth less than that and bought a new fairway wood (got a great deal thanks to RBG's 24-hour special deals). So I was shopping for some accessories and came across this product. Ordered it without hesitation. It's very easy to use and detailed instructions on the link provided at product description is very easy to follow. Although the item description says 100% cure in 10-20 minutes, I left it overnight since inside of the hosel gets no air circulation and probably takes longer time to cure. I haven't hit the club yet but it feels solid. Awesome product, especially at this price.
Pros
Cheap Easy to use Comes with a tight fitting cap so product can be used again later.
cheap and easy. does the trick for sure
Easy to use and bonds the club head solid to she shaft.
This stuff works great. Better to use this than buying a new club.
hard to say
August 28, 2012
i bought this thinking i needed it for my new grip but i didnt need it so i havent used it
By Pim
Lelystad, Flevoland
easy to use
August 11, 2011
its easy to use. mixes instandly. dries quicker than other resin.
Pros
price godd mix short drieing