Once ball speed is maximized with launch angle and and spin rates optimized - the final route to elevated driving peformance on the course is greater consistency. Step up to the Next Generation of Mizuno's ST Series - the new ST-Z 220 and ST-X 220. Engineered to produce your most efficient drives and highest ball speeds... more often.
ST-X FAIRWAY WOODS
DRAW BIAS - HIGH LAUNCH
A confidence-inspiring sequence of fairway woods - engineered to produce a higher, draw biased flight. The ST-X fairway woods are suited for moderate swing speeds who need elevated launch to reach their optimal distance and controlled landing angles. The generously sized 3 wood boasts a full Ti construction with high ball speed SAT2041 Beta face – shared with Mizuno's woods.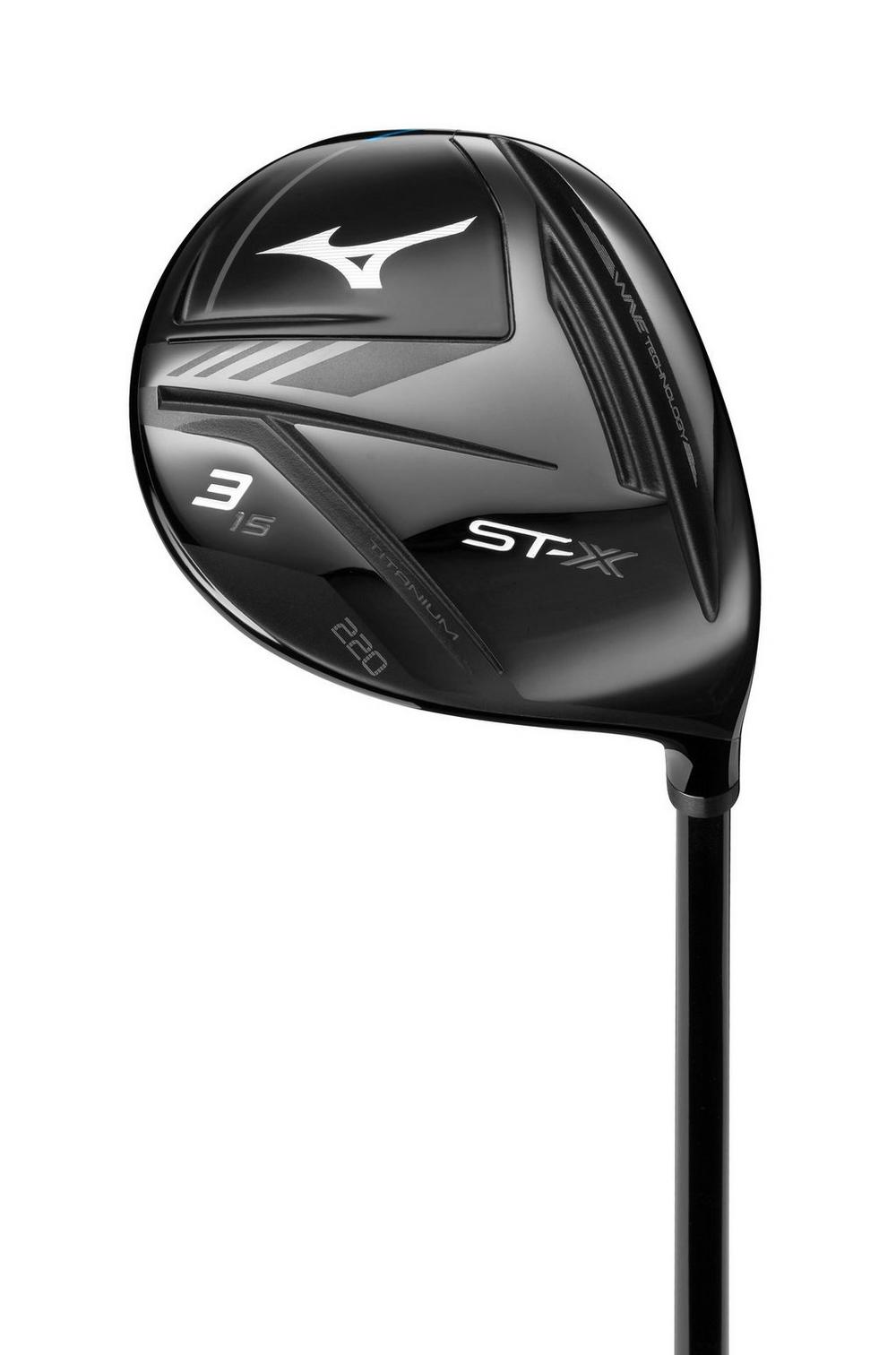 FULLY TITANIUM 3 WOOD FOR DRIVER TYPE BALL SPEEDS
SAT2041 Beta Ti with multi thickness CORTECH face shared with Mizuno's drivers. Combined with Ti811 body achieve the most stable, highest ever ball speeds from a Mizuno fairway wood.
HIGH DRAW FLIGHT BIAS
Mizuno's X-Axis design - weight is focussed deep in the heel, encouraging a higher draw bias flight.
MARAGING STEEL FACE 5 AND 7 WOOD
Significantly more compact (than the 3 wood), for use from the fairways, construction reverts to a high ball speed Maraging MAS1C steel face.
HIGH DRAW FLIGHT BIAS
Mizuno's X-Axis design – ultra light waffle crown, with deep internal weighting, encourages a high draw biased flight.
ENGINEERED FOR 'SOLID' FEEL
Mizuno's Harmonic Impact Research identifies and isolates vibration patterns that elite players associate with a preferred 'solid' feel. Knowledge of exact, preferred vibrations allows Mizuno to build sound into the design.
OPTIMIZED WAVE SOLE
Fairway specific design helps create higher ball speeds from low on the face – suited to strikes directly from the turf.
| | | | | |
| --- | --- | --- | --- | --- |
| Model | Loft (*) | Lie (*) | Head Volume (cc) | Length (") |
| 3W | 15 | 59.5 | 191 | 43.25 |
| 5W | 18 | 60 | 174 | 42.75 |
| 7W | 21 | 60.5 | 158 | 42.25 |
Pre-Owned Club Conditions
Condition: Like New
Shows virtually no traces of wear, may have been hit one or more times in controlled conditions. May show signs of very minor "shop wear" (i.e. a single cosmetic blemish), but still full of NEWNESS!
Watch Video
Condition: Excellent
Clubs have seen minimal usage and are in top of the line preowned condition. You may see some minor or faint cosmetic blemishes (i.e. very light scuffing and/or scratching). Typical wear that you will see on an Excellent condition club is normal ball marks that are lightly visible on the face, minimal scratching to the crown, sole and edges. Shaft has no noticeable wear.
Watch Video
Condition: Very Good
Clubs have seen normal usage for an extended period of time or at least one season, the wear you'll notice will be typical of the age of the model. All of the wear is purely cosmetic, and will not in any way affect the performance of the club. Typical wear you'll see on a Very Good condition club is normal ball marks and scratching on the face, normal scratching on the sole, faint dings and nicks on the crown and/or around the edges of the head, light scratches, paint chips, paint blemishes on or around the crown. Shaft has minimal wear.
Watch Video
Condition: Value
Clubs offer a great value for someone who isn't as interested in cosmetics, but cares about performance. Shows frequent to heavy use, but does not show any signs of abuse. All clubs in Value Condition are in 100% playable condition, which is the perfect option for the player looking for more bang for the buck. Typical wear you'll see on a Value condition club is moderate to heavy ball marks and scratching on the face, moderate to heavy scratching on the sole, moderate to heavy dings and nicks on the crown and/or around the edges of the head, moderate to heavy scratches, and paint chips/ blemishes on or around the crown. Shaft will have noticeable wear.
Watch Video