At Rock Bottom Golf, your satisfaction is our top priority! If for any reason you are not completely satisfied with your qualifying purchase, you may return that product for full store credit. Look for the 60 Day Performance Guarantee icon for all qualifying products.
Style Breeds Confidence



SPIDER TOUR RED

Played by World #1, Jason Day, the Spider Tour Red putter delivers Tour-proven performance to every golfer. With perimeter weighting for added stability and a removed sightline to zero in the player's focus, Spider Tour Red provides a stroke of confidence to help golfers drain more putts when they matter most.

"Created to meet the exact specifications of Jason Day and Dustin Johnson, Spider Tour putters embody the clean look, stability, and Pure RollTM technology demanded by the world's best."
— Bret Wahl, Vice President – Irons, Putter, & Wedge.

PURE ROLL INSERT

Played by Jason Day and Dustin Johnson, the Pure Roll insert combines 45° grooves with a softer polymer to increase topspin and improve forward roll across varying surfaces – helping your ball start and stay on its intended line.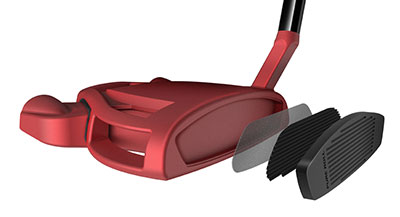 Manufacturer:

TaylorMade Golf

Open Box:

No

Pd-product-review-family:

11TAY17SPTPMRH

Length & Lie:

"/Standard

Gender:

Mens

Headcover:

Included (Matching)

Dexterity:

Mens Right Handed

Grip:

Winn Medalist Pistol

Shaft Material:

Steel

Shaft Name:

TaylorMade Stock Steel

Model:

Spider Tour Red

MAP:

299.99

Video:

//videos.sproutvideo.com/embed/489ad9b51818e0c0c0/a37e4eff6b5a4ac0

Condition:

New, Factory Sealed

Abstract:

60 Day Guarantee!

Makeup:

(1) Spider Tour Red Putter

FreeShip:

Ground

DropShip:

No

pd-rating:

5

pd-rating-count:

41
New to the golf lingo?
Other Great Gear to go with your TaylorMade Golf- Spider Tour Red Putter
Product Reviews
5
Stars based on
41
reviews
By Brad
Unionville
December 12, 2018
Nice putter!
I received the Taylormade putter promptly and in great condition. I have watched the pros play with a similar one on the tour and have been wanting to get my hands on one. I was not disappointed great feel and a solid line to look down. Making putts right out of the box!
By Michael
Cape Coral, FL
December 8, 2018
Nice putter
Great for Florida golf . The all blacked out head has no reflections from Sun.
Cons
Very lite . T/M makes replacements .
By Steve
Dallas TX
December 8, 2018
Great putter
Outstanding quality putter. Came ontime atva fabulous Rock Bottom price
By Dave
Florida
November 15, 2018
I love it!
Great weighting, great feel. Easy to line up.
By Jon Hemmati
CA
November 14, 2018
TM spider putter.
I love the feel with this putter. I'm still getting used to it after using blade putter for a long time
By Cam Stockman
IA
November 14, 2018
Awesome product for a great price!!
I haven't been able to use my new putter, as I live in Iowa and our winter has arrived early. It looks and feels great though, and I am looking forward to going low the next time I am able to get out and use it.
Pros
Sharp looking Head cover Low price
By Steve
Tampa
November 9, 2018
Monogamy is over rated ...
I'm a weekend golfer (only because I can't afford to retire yet!) who really relies on an above average around-the-greens game to make up for my below average getting-to-the-green game. I keep fairways, greens in regulation, and putts stats for every round and after several years of averaging in the neighborhood of 0.3 three-putts per round (roughly no 3 putts two out of three rounds played) I suddenly found myself 3 putting 1.7 times per round (a nearly 6x increase!) and couldn't shake it. I am not a guy who usually buys a new club or gadget to 'fix' an issue. The irons I bought last year replaced the ones that'd I been using for 19 years and I've only used two putters in that same time frame including the Odyssey Versa 7 that I'd been using for the last 5 years but despite all of the time I invested in drills and putting practice I continued to walk off the 18th with 36 or 38 putts on the card. So when Scratch put the Spider on sale for $119 I reacted in desperation. I spent a couple of evenings playing with the spider in the basement as the remnants of Hurricane Michael prevented us from getting out. After a few hours I was literally stopping my putts "on a dime" which is the target I use when putting in the basement. Then I played a little 'putting billiards' putting into balls that I placed around the basement floor. It wasn't long before was getting some confidence in the setup and stroke and getting comfortable with the much larger grip (Super Stroke) than I had been used to. Finally the weather cleared and I was able to get out for a round at the local muni. I was running a little late and didn't get to warm up or hit the practice green so my expectations were low. My 3rd shot hit the first green but being so wet the ball stopped about 30 feet from the hole. I unsheathed the Platinum Spider as my playing partner started a little heckling ... "30 feet should be a gimme with that new putter!" I pictured the hole as a dime sitting on my basement carpet and drained the putt for par. It's too soon to declare victory but I've been out 3 times with no 3 putts so watch for a used Versa 7 to show up on eBay!
Pros
well balanced, great feel as it makes contact with the ball, just the right size (not space-ship sized like some of the putters out today!), and the super stroke grip feels very comfortable.
Cons
The one annoying thing is that my bag has a putter well on the side and while I can get the larger grip into the putter well is very snug and I'm afraid "stuffing it in" and pulling it out is actually going to wear the grip.
By vincent amato
FLORIDA
November 3, 2018
spider
this putter works good for me .
By Kris
North East, PA
October 30, 2018
Nice
Great feel. Been using older Spider 72. More control over face path. Great price too.
By Mike
Chattanooga, TN
October 26, 2018
Great Putter
This putter has made me a much more comfortable and confident person on the greens. I was a little hesitant at first moving from a blade style to a mallet, but the conversion took only a few practice putts. Would highly recommend this putter.
Pros
Evenly distributed weight, softer face, white line on center
Cons
haven't found any yet