Chrome Soft
This ball is different. The Callaway Chrome Soft Golf Ball combines Tour-proven distance and performance with unparalleled feel and exceptional mis-hit forgiveness, led by the groundbreaking new Graphene Dual Soft Fast Core.
Fast Ball Speeds & Low Spin Off The Driver
New Graphene-infused Dual Soft Fast Core with a new, larger inner core maximizes compression energy while minimizing driver-spin and promoting high launch for long distance.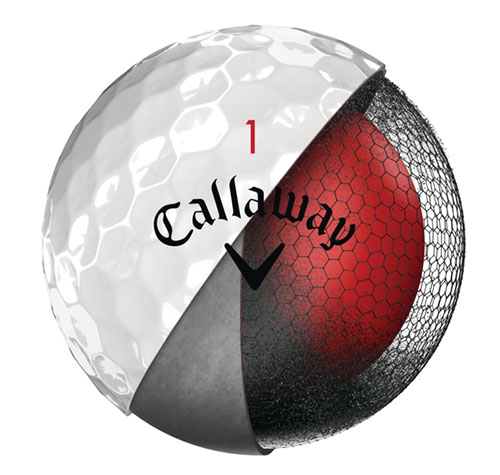 Distance & Control Through The Bag
Premium dual-core construction promotes more distance off of your longer clubs, and more control off of mid-irons, short-irons and wedges.
Pinpoint Greenside Control
Thin ultra-soft Tour Urethane Cover feels fantastic and generates shot-controlling, stroke-saving spin on pitches and chips.
Ultra-Soft Feel
The fast SubMantle, soft Tour Urethane Cover, and low compression core combine for unparalleled feel.
Forgiveness
Softer golf balls compress easier on off center hits for incredible distance all over the face.
Chrome Soft
Chrome Soft X
Feel - Softest
Feel- Soft
Forgiveness - Best
Forgiveness - High
Flight - Straight
Flight - Workable
Specs
Type
Cover Material
Pattern
4-Piece
Soft Urethane
Hex Aerodynamics
Manufacturer:

Callaway Golf

Open Box:

No

Pd-product-review-family:

15CALCHROMSF16

Gender:

Mens

Model:

Chrome Soft

MAP:

11.99

Video:

//videos.sproutvideo.com/embed/189adfb11a1de7c690/61cb31c4b705d412

Condition:

New, Factory Sealed

Makeup:

ONE-SLEEVE

FreeShip:

No

Exclusion:

Yes

DropShip:

No

pd-rating:

5

pd-rating-count:

62
New to the golf lingo?
Other Great Gear to go with your Callaway Chrome Soft Golf Ball Sleeve
Product Reviews
5
Stars based on
61
reviews
My balls are chrome and they're soft
Great ball. Spins good, what's not to like
Pros
Greenside spin, distance
Cons
find the woods or the lake too often
By Brad white
Medford ma
July 17, 2018
Callaway chrome
Great balls and great service again fro rock bottom!
Pros
Good looking and good performance
By Oscar
Bear Lake, MI
July 5, 2018
Playing well with these
I like the feel and distance of these balls. Will be ordering some more, hopefully not too soon.
By Ryan
Richmond, VA
June 27, 2018
Very good ball
Good ball, but I don't see any real world advantage with the addition of the Graphene. I bought the previous generation when they were being sold at discount to get them off the shelf. They play the same for me. Love the ball, but can't justify the price
Pros
Good playability around the greens. Check nicely and feel good off the club face
By Michae
Florida
June 20, 2018
Great Ball
Good feel and control
By Duncan
Atlanta, GA
May 29, 2018
Great balls
ChromeSofts are now my ball, feel great, long, good spin - everything you need in a tour performance ball.
By Bob
Sacramento, CA
May 29, 2018
HANDS down the BEST
I've been playing these since they came out and they are by far the best ball on the market. I tried the 2018 version this past week and they are even better than the 2017 version. They are very long off the tee and almost self correcting at times. Lowest spinning off driver of any high-end ball on the market. So you can control it much better and not give up anything around the greens. They are even better off long and mid-irons, the feel is incredible and the work-ability is amazing. You can get them to stop on a dime and back-up easy with your wedges and are uber-soft around the greens when chipping. They will roll out on pitch shots nicely and will check up and short chips as needed. And the feeling is so true on putts its amazing. I didn't want to like the "truvis" design, but I love it now. SO easy to find and even when the sun is shining in your eyes, you don't loose site of the ball during your swing. Plus you can see the spin you are getting on your shorter shots.
Pros
Everything.. Look, feel, distance and control! Best ball on the market for low to high handicappers
By Corey
North Carolina
May 9, 2018
WOW.....
Someone gave me a dozen of these a few days ago that they won as a promotional thing thru work. Played with them for the first time yesterday. Feel wasn't QUITE as soft as I was hoping for (more "mid" compression than "low" compression), but still felt better than a lot of tour-level balls. Otherwise, this ball was amazing. Great distance, piercing flight, great control. My favorite part was around the greens. Really stuck like a tour-level ball on wedges and short irons. Definitely recommend.
By Ken
Washington
May 7, 2018
My new ball
Soft feel ,good distance. An excellent all around ball.
By Bryan
Evansville, IN
May 1, 2018
Right up there with Por V1 and TP5
This is a GReat ball. I would rank it right Next to the Pro V1 and the Tp5 Long and soft
Pros
Long and bites on the green