TP5 and TP5x feature varying 5-layer constructions that are specifically engineered to perform with every club.
SHARED FEATURES:
Tri-Fast Core: Progressive compression for maximum energy transfer
Dual-Spin Cover: Multi-layer spin performance with soft cast urethane cover
322 seamless dimple pattern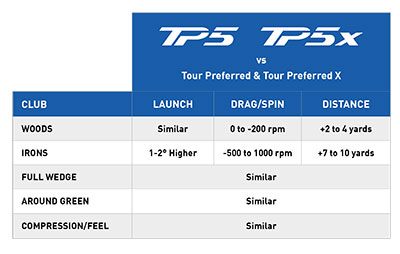 UNIQUE FEATURES:
5-layer ultra-thin cover construction
High launch and low spin for extremely long distance on all shots
90 Compression
Manufacturer:

TaylorMade Golf

Open Box:

No

Pd-product-review-family:

15TAY17TOURPR11

Gender:

Mens

Model:

2017 TP5X

MAP:

11.99

Video:

//videos.sproutvideo.com/embed/d49ad9b01615e2c75c/5de1dd850c1ba62c

Condition:

New, Factory Sealed

Makeup:

ONE-SLEEVE

FreeShip:

No

pd-rating:

5

pd-rating-count:

80

DropShip:

No
New to the golf lingo?
Other Great Gear to go with your TaylorMade TP5X Golf Ball Sleeve
Product Reviews
5
Stars based on
80
reviews
By Joel
Tennessee
October 22, 2018
TP5X "Practice" Balls
I love the TP5X, but was tired of shelling out $45 per dozen and I really don't like refinished balls. I tried some "off brands" but was left wanting more. These practice balls have absolutely nothing wrong with them except usually a smudge in the Taylormade Logo print. They are amazing. If you like the TP5X get theme here. Great ball.
Pros
Perfect ball with some defect (all I've found were typically a smudge on the printed Taylormade logo)
Cons
They have practice stamped on the side, but other than that they are amazing at less than half the cost.
By MD58
Milwaukee, WI
October 18, 2018
TP 5 practice balls
20 bucks a dozen, well worth it.
By Carl
Lima, Ohio
October 3, 2018
TP5 practice balls
These TP5 practice balls perform as well as the TP5 at half the cost. No visible blemishes, great distance and good drop and stop performance on the green.
By TG
Cary, North Carolina
October 1, 2018
Great Golf Ball, but inconsistent personalization
I give the golf ball 5 stars, but the personalization is inconsistent. Last time I ordered them, the writing was in a much larger font. This time, the message was much smaller. I like the fact that they have more colors than most places, but disappointed that it was smaller this time.
Pros
Best Ball on the Market Great ink colors for personalization
Cons
Inconsistent font size on personalization
By Dave
Knoxville, TN
September 25, 2018
Great deal
Can't buy a better ball for the price. Stamped "practice" but means nothing talking about performance
By Art
AZ
September 19, 2018
First time for...
I've purchased MANY ammo box/practice balls, and this was the first time I've been left to wonder..."are these really new golf balls?" Nicks and imperfections on several balls. Otherwise, great deal!
Pros
Top-tier ball, bulk price
By Michael
Chantilly, VA
September 19, 2018
firm feel; great distance and spin
Bought these on sale and am very impressed with the performance. Not exactly sure what difference between "practice" and regular ball but these perform very well. I'm getting very good distance on drives and both distance and accuracy off irons. I like the firm feel off the putter as I like to hear a good click.
Pros
distance greenside control firm feel
By Doug
Langhorne, PA
September 15, 2018
Best Golf Ball (for me)!
If you are looking for a fantastic performance multi-layer urethane-covered "tour level" golf ball, look no further than the TM TP5x. This is NOT a golf ball for lower swing speeds, and some golfers who hit the ball low will not benefit from using the TP5x, but for those golfers with faster swing speeds who are looking for low spin off the driver and fairway metals, lots of spin on their short shots and great stability in teh wind, this is the ball for them!
By Benny
Austin
September 13, 2018
Great Ball
I've played prov's for some time now but have made the switch to the TP5's. All around better ball
By walt
DE
September 6, 2018
great ball
far and straight
Cons
price more expense than a nitro. lol